WONDER SCHOOL
---
Wonder School is a school of English for kids over 2 years old. Our school emerges from an innovative project that seeks to take advantage of the natural skills children have for language to help them acquire English the same way they acquire their mother language. Our aim is to make our students feel comfortable when speaking English.


WHY WONDER SCHOOL?
- Small groups of maximum 6 kids, student-centered teaching.
- 100% English, real communicative context.
- Materials and topics adapted for the interests and likes of every age.
- Updated to new technologies.
- Homely atmosphere, bright design.


OUR FACILITIES
- We are surrounded by green areas.
- Underfloor heating and air change system.
- Kitchen and living-room.
- Role-play and storytelling room.
- Natural light in our classrooms, which are decorated
according to the students' age.
- Children-friendly space with safety regulations
and no architectonical barriers.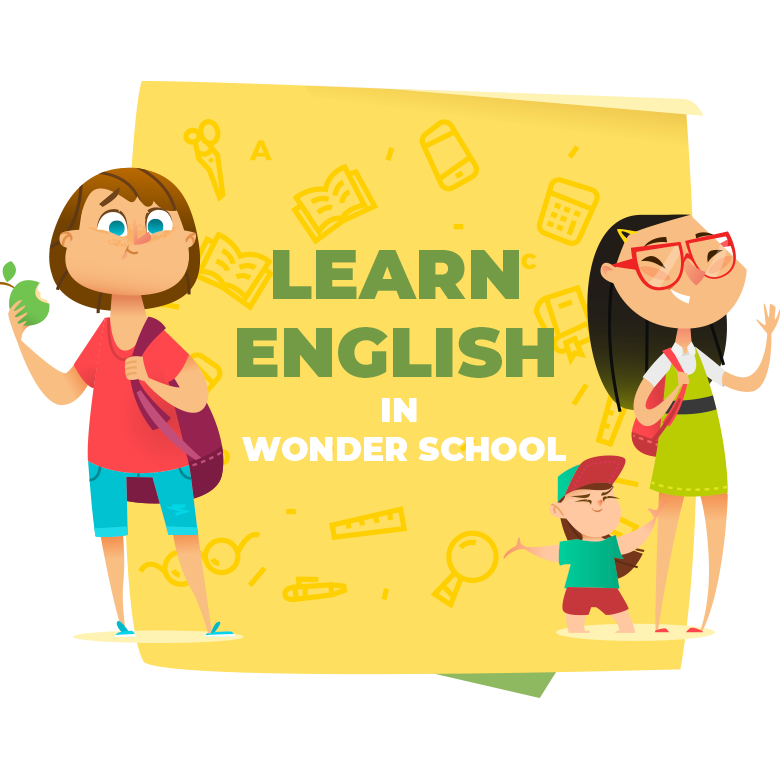 OUR METHOD
---
Experience for the best results
---
Our experience allows us to prepare activities specifically for our students as well as to use the best strategies to obtain a meaningful learning.
Our method is based on the communicative approach, this natural approach offers our students the chance to use English in a real communicative context.
Questions about Wonder School
---
Because we offer a pleasant atmosphere for children to learn a new language. Furthermore, we work in really small groups so our students get involved and participate efficiently in all the activities. We are not a franchise, we create our own activities and programme according to the specific needs of our students.
2
What is the suitable age for children to start learning English?
Contact with other languages is highly advantageous for the cognitive development of children as well as for the improvement of their linguistic skills, even in their own mother tongue. Toddlers acquire English in a natural way, they get used to all the sounds so they can identify them and they can repeat any phoneme. Our school provides the perfect environment to engage the youngest kids in learning English.
3
What is the school's method?
Our activities are based on the communicative method and on the naturalist approach. We want our students to learn English the same way they acquired their mother tongue. For that purpose, we offer a real communicative context so they can appreciate themselves the utility of what they are learning and they can participate in the activities accordingly.
4
How do the youngest kids adapt to the school?
We offer a homely atmosphere in which kids feel really comfortable. Furthermore, our activities are specifically created for their concentration time and they are very varied, including cooking, handcrafts, songs and more. Our classrooms count on natural light and are decorated for them. All these elements together contribute to adaptation process.
5
Do you use the same method with older students?
The level of language we require from our students as well as all the activities we design for them are perfectly adapted to our students' age and interests. Our common aim is that our students learn and improve their English level feeling confortable at our school. This way they do not feel afraid of speaking English and also they know that what they are learning has a real purpose.
6
Do you work with small groups?
Yes, we teach and learn in groups of six so all the students have the chance to actively participate during the lesson.
7
Do you teach how to speak English?
Our aim is to make sure that all kids feel confortable and confident when speaking English. This is why activities related to practice 'listening' and 'speaking' have a key role during our lessons.
Grammar is intrinsic to language, which means that any activity done during the lesson needs grammar. We teach our kids how to express themselves with a correct grammar in both in spoken a written tasks.
9
Do you prepare stundets for official exams?
Yes, students in ESO that are interested in preparing those exams can do it with us.
10
Do you have summer camps?
Yes, we offer summer camps per weeks.
11
Can students take their school homework to Wonder School?
We organize our lessons according to the linguistic aims that we consider students should acquire, because of that we cannot include their homework from school.
12
When can I make the inscription of my kids?
The inscription period for new students starts the first of June. Students already in the school can make the inscription for the next school year during May. Anyways you can contact us whenever you want to get any information you need.
13
When does the school year start?
The school year goes from September to June.
WONDER SCHOOL
---
Recibe información sobre a escola
---